Quick Links: Nursing Team | Emergency Care Practitioner

Nursing Team
Donna Jacob
Practice Nurse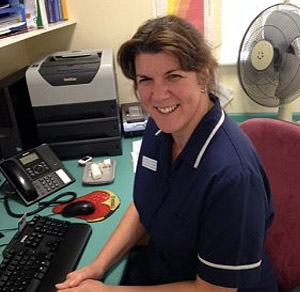 Mary Elliot
Nurse Team Manager, Nurse Practitioner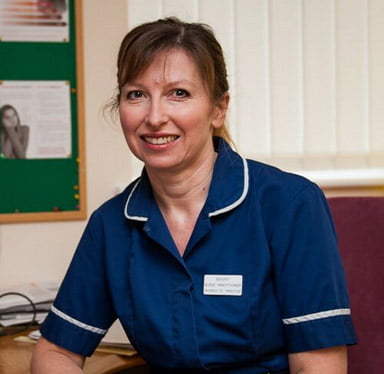 I joined Church Street Practice in May 2002 and have been leading the Practice Nurse and Health Care Assistant team since 2009. I really enjoy working with such friendly, enthusiastic and professional colleagues.
My role involves managing both acute and long term conditions. My role is very varied and I provide daily appointments from minor illness and contraception through to Diabetes Clinics. I have completed a range of training courses including Insulin Initiation in Type 2 Diabetes, Injury Management, a Diploma in Asthma Care, Diploma HE in Cancer Care and a PG cert in Non-medical Prescribing.
During my Nursing Career I have previously worked as a Staff Nurse on an acute surgical ward and an Oncology ward at the Churchill, a Research/Chemotherapy Sister for ICRF (now Cancer Research UK ) and a Practice Nurse in Abingdon
Jenni Murray
Nurse Practitioner, Minor Illness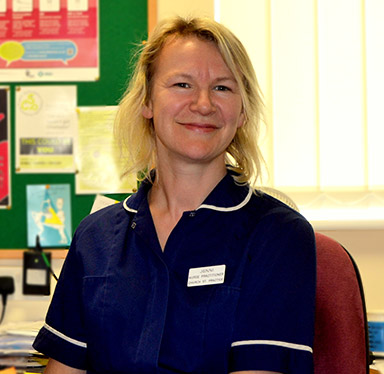 Upon graduating from Oxford Brookes in 1996, I set my sights on cardiac intensive care for 18 months in Bristol. I took a year out in order to travel the world, and ended up working in Sydney for 3 months,- in recovery/intensive care settings, which was amazing. The pull back home was great however, and I worked in intensive care at the John Radcliffe briefly, before starting my first job as a practice nurse in Didcot in 2000.
It was very exciting to learn so many more new skills every day and work in a smaller team. I quickly assimilated skills in a diverse range of specialisms through training courses, but found my niche particularly in minor illness/injury/family planning. I completed my prescribing course on 2002, then followed on with my PGDip in Autonomous Practitioner at Oxford Brookes in 2004.
My role now involves consulting with minor illness/injury, acute onset of undiagnosed problems and family planning, which I thoroughly enjoy. Church Street is a very busy environment, and it is a pleasure to work with such a lovely, professional team.
Kate Hannaby
Diabetes, Wound Management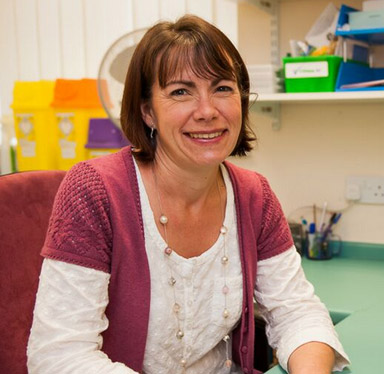 I qualified as an RGN in Southampton in 1991 and after gaining experience in general hospital nursing, I became a research nurse into asthma and hayfever in which time I completed the Diploma in Asthma Care. I moved back to my home town of Wantage in 1997 to take a post in diabetes research for young adults with type I diabetes at University of Oxford. Whilst in this post I completed the Certificate in Primary Diabetes Care at the University of Warwick.
Joining Church Street Practice in 2005 I entered the dynamic and demanding environment of practice nursing. In the practice, I have completed various training courses to help me become a competent practice nurse. My special interests are in diabetes and wound management.
Denise Ledbury
Women's Health, Learning Disabilities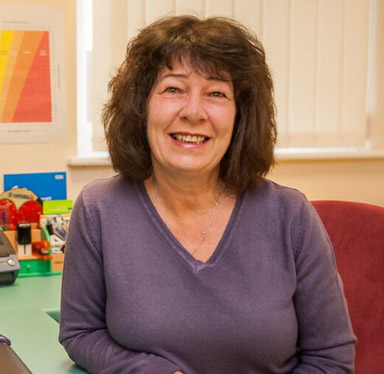 I trained at University College Hospital, London; qualifying as a RGN (Registered General Nurse) in 1985. After spending some time in London working as a staff nurse at The National Temperance and The National Homeopathic Hospitals, I returned to my home town (Wantage) and took a post as Primary Nurse at Didcot Community Hospital. Later, the demands of a young family made maintaining a full time position rather difficult, so for several years I enjoyed the flexibility of part-time Bank Nursing in various Oxfordshire hospitals and supplemented this with some phlebotomy and admin duties at the surgery.
In April 2000 I joined the practice nurse team at Church Street; a very different role from "hospital life", necessitating training in the many different aspects of care that we provide at the surgery.
My special interests are in Women's Health and also Learning Disabilities. I have had further training to be able to manage menopause problems and HRT. I also have qualifications in family planning which includes implant insertion and removal and coil removal.
Sharon Huckstep
Senior Health Care Assistant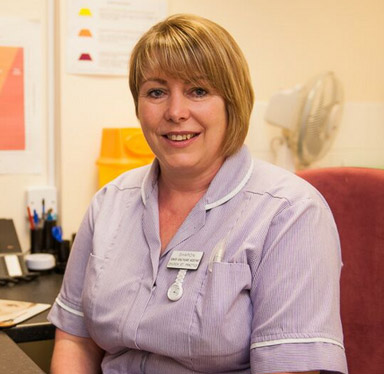 Sharon has worked in the Practice for the past 9 years and started working in the Reception area in 2004. In 2010 she had the opportunity to move into the Health Care Assistant team where she covers many duties including spirometry, annual heart checks, wound management and assists with minor surgery.
Lynn Nichols
Health Care Assistant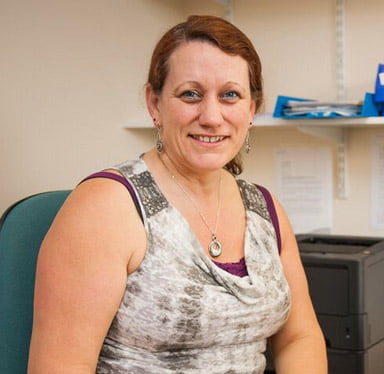 Lynn has worked in the Practice for the past 20 years and has been in an administration role. In 2006 she was given the opportunity to become a part time Phlebotomist with in house training and later became a Health Care Assistant which also runs alongside many administration duties.
Caroline Sherwood
Health Care Assistant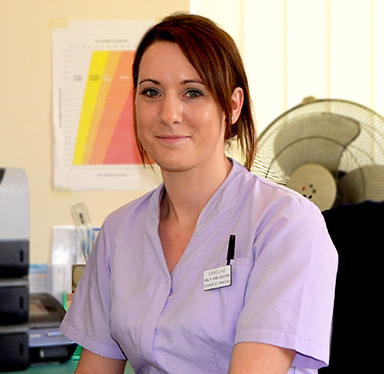 Caroline joined the Health Care Assistant team in August 2012 and had previously worked as a carer on a Nursing Wing of a local care home. She is currently undertaking many training courses to increase her knowledge of her various new clinical skills.
Jackie Stringer
Health Care Assistant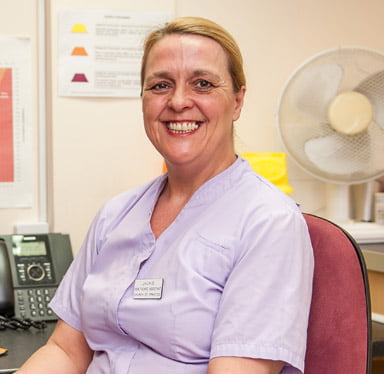 Jackie joined the Health Care Assistant team in April 2014 and had previously worked at Wantage Community Hospital. She is currently undertaking many training courses to increase her knowledge of her various new clinical skills.
Our six registered Practice Nurses offer a wide range of skills and provide regular clinics throughout the day Monday to Friday. We have two Nurse Practioners (Mary Elliott and Jenni Murray) who can see a variety of minor illnesses and prescribe medications without you needing to see a GP. To read more about their services visit our minor illness page..
We are extremely proud of the variety of clinical skills our nurses have to help support and look after our patients. Each of our nurses has specialized areas of knowledge as well as carrying out general nursing care.
Please see their individual profiles to see what their areas of specialist clinical interest are. All of our nurses are able to see the following:
minor injuries
health checks
healthy lifestyle advice
cervical screening
travel vaccinations
ear syringing
removal of stitches
blood pressure monitoring
wound and ulcer care
smoking cessation advice
annual monitoring patients with asthma, diabetes, coronary heart disease and stroke.
They also welcome young patients who may wish to discuss health issues.
There are four Health Care Assistants working under the guidance of qualified Healthcare professionals and they all have slightly different skills which include:
Blood samples, blood pressure, B12 injections, ear syringing, ECG recordings, Flu and Pneumococcal immunisations, lifestyle advice, assisting with minor surgery, NHS health checks, smoking cessation, suture removal, spirometry, urine testing, weight/height measurements and wound dressings.

Emergency Care Practitioner (ECP)
Hannah Wilkinson
Emergency Care Practioner (ECP)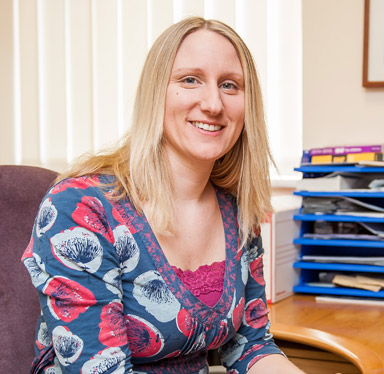 I joined Oxfordshire Ambulance Service (now South Central Ambulance Service) in 2006 as an emergency technician and was very quickly thrown into the world of emergency medicine.
I found it to be a job and environment I loved and progressed to the role of Paramedic through completing a Foundation Degree in Paramedic Science from Portsmouth University in 2010. From there I decided to further my knowledge and skills and started a part-time Student Designed Award BSc(Hons) from Oxford Brookes University. This is something I am still completing but I have enjoyed focusing on minor illness and injuries as well as furthering my academic skills by undertaking a research project during this training.
Whilst with the ambulance service I progressed to the position of Clinical Mentor which involved taking on a mentoring role and supervising student paramedics and other members of my team. I found this a very rewarding and challenging role as I guided others and encouraged them to become the best clinicians they could be.
In 2014, with a change in my family circumstances, I felt it was the right time to move out of shift work and was thrilled to join the team at Church Street Practice as their new Emergency Care Practitioner. It has been exciting to take on this new role and to join with the practice in trying something innovative.
I currently undertake acute home visits and work closely with the duty doctor in seeing patients who need a same-day consultation. I have learnt many new skills and enjoyed furthering my knowledge since joining the surgery. It is great to be part of a team which strives to provide first class, holistic care for each and every patient that they encounter
Our Emergency Care Practioner is an experienced paramedic with extra training in minor injury and illness. They work closely with our GPs and nurses. Our ECP can carry out emergency home visits, see patients at the practice with acute illness or injury and participate in telephone triage of simple medical problems.
They are supported by the duty GP who will review and sign any prescriptions that are needed. They have allowed us to assess our unwell patients at home quicker whilst still appropriately supporting our patients who need to be seen at the surgery.